The Best Free Virtual Instruments for Music Production
Creating unique sounds with software instruments does not have to be expensive. While virtual instruments and sound libraries like Omnisphere, Massive or Serum are really expensive, you can get similar software for free. In this blog post, you can find the best free virtual instruments for music production.

I only featured plug-ins that are available in 64-bit, VST and Audio Units format, so you can use them on Windows () and on Mac () within the majority of DAWs. You don't have a Digital Audio Workstation, yet? Find out about the best free DAWs in this blogpost. If you are a Linux () user and one plug-in has is not available in a Linux format you can use Windows VSTs with the help of a little workaround. Some of the free plugins here require you to create an account or you need to install special software to use them. These icons will help you to easily identify what you need to do in return for the free software:

– free download without any strings attached
– you need to sign up for a newsletter or create an account
– besides creating an account you need to install additional software to use the plugin
The best free VST instruments
Here you can find the best free instrument plug-ins. Whether you are looking for acoustic instruments or synthesizers. There are instruments for all kinds of genres. They sound really great already, but to make their sounds more unique you can use different effects additionally. Just get creative and enjoy my list of the best free virtual instruments.
Synthesizers
Vital is probably the best free synthesizer out there. The free version comes with 75 presets, 25 wavetables, and all features of the synth. And these are a lot… You can turn text into wavetables, modulate nearly every parameter with up multiple envelopes and LFOs and add different effects like distortion, reverb, etc. to name a few. Another handy feature, that I like a lot is that you are able to choose the pitches for your arpeggios. You can either lock them to your preferred notes or choose the notes relative to the one that you are playing. And did I mention the awesome visual feedback?
So you see it can easily compete against industry-standard synths like Serum and Massive. Furthermore, it is available for free for Windows, Mac, and Linux! Vital was developed by Matthew Tytel who is again featured below with his HELM synthesizer plugin.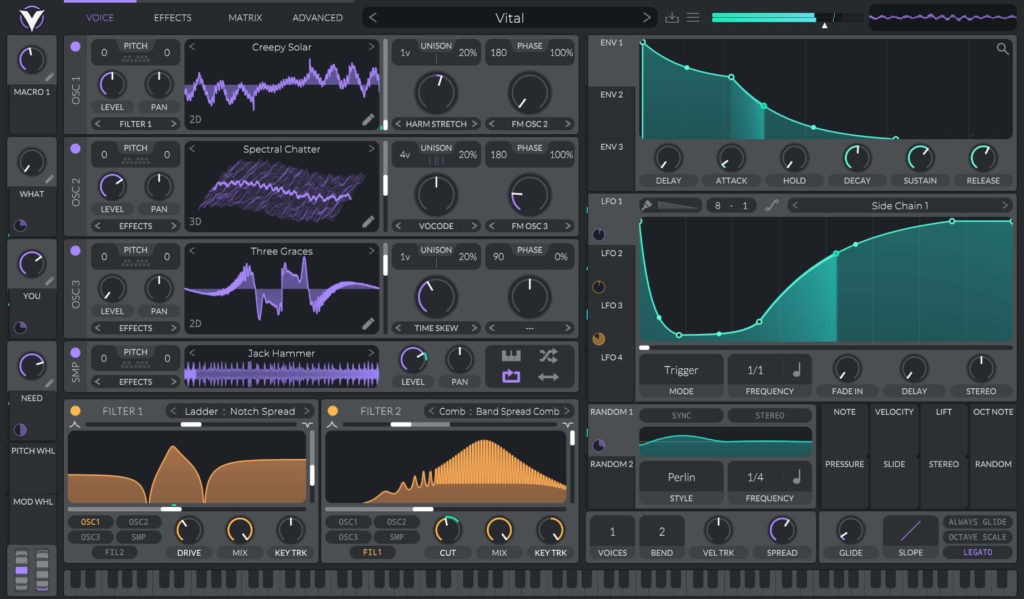 u-he is a well-known synth software company Germany named after its CEO Urs Heckmann. Besides their awesome paid synthesizers like the "Diva", they have a lot of free ones as well. My favorite one is the Tyrell N6 which he made for Amazona, a German online music magazine. You can find it here (If the German challenges you, you can translate the website with the help of your browser or watch my YouTube video about the best free virtual instruments if you don't know what to do).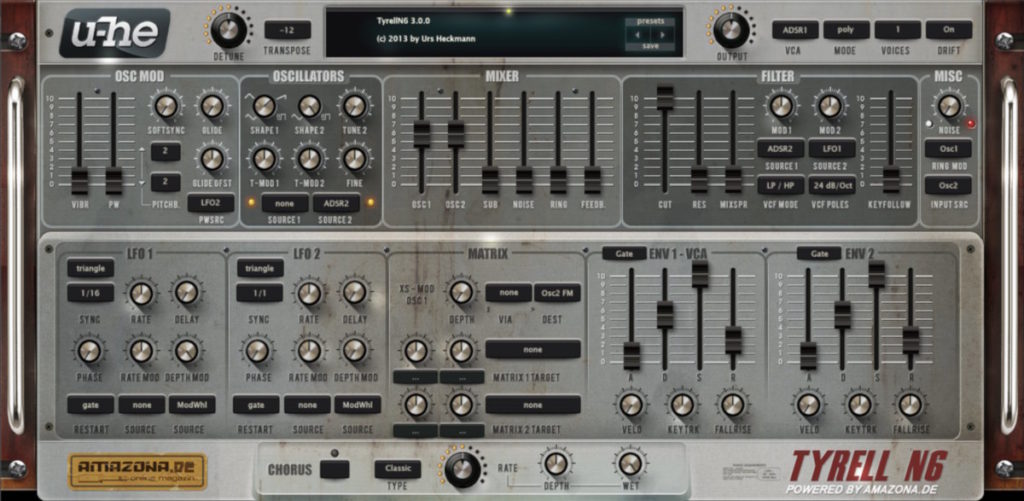 On u-he's website, you can find three more synthesizers. The "Podolski", the "Zebralette" (the smaller version of the Zebra2) and the "Triple Cheese". All of them are really great and totally worth trying out. You might want to upgrade later on.
At Full Bucket Music, Björn Arlt offers you multiple synthesizers, step-sequencer, and some effect plug-ins for free. For example, he created simulations of the KORG-PS3000 series. They try to be as close as possible to the original while being CPU efficient. I also enjoy his KORG vocoder, so definitely go and check out his plug-ins.
Syntronik is a hybrid of sample library and emulation. IK Multimedia sampled the sounds of 38 analog synthesizers combined the samples into 17 free virtual instruments according to manufacturer or model series. In the free version, you only have a few presets but you can create your own sounds and save your custom presets as well. The naming of the synths is quite clear:
Minimod – Moog Modular, Minimoog Model D, Voyager
Noir – Moog Prodigy, Multimoog, Micromoog
Polymorph – Moog Polymoog, Opus 3, Rogue, Concertmate MG-1
Bully – Moog Taurus I, II, III
Harpy 260 – ARP 2600
J-8 – Roland Jupiter 4, 6 and 8
J-60 – Roland Juno 60
T-03 – Roland TB-303 Bassline
DCO-X – Roland JX-3P, JX-8P, and JX-10
OXa – Oberheim OBX und OBXa
Pro-V – Sequential Circuits: Prophet 5 and 10
V-80 – Yamaha: CS-80, GX-1, and CS-01
Blau – PPG Wave 2.3
SAM – Oberheim SEM
Galaxy – Alexis Andromeda
String Box – ARP-, Elka-, Hohner- and Roland-String-Machines
99 – Yamaha SY99
The TAL Noise Maker is the successor of TAL's Elek7ro II. Even though this softsynth may sound modern, you can use it for vintage lo-fi sounds with its graphical envelope generator and the delay, with bitcrusher, filter overdrive. If you only go through the factory presets, which are all monophonic, you'll get the powerful virtual-analog sound, but still not even half of the actual possibilities. The up to 6-voice polyphonic synthesizer has a lot to offer: 2 oscillators, sub-oscillator, 2 LFOs, filter with 11 variations, ring modulator, various effects including reverb, delay, and a bitcrusher.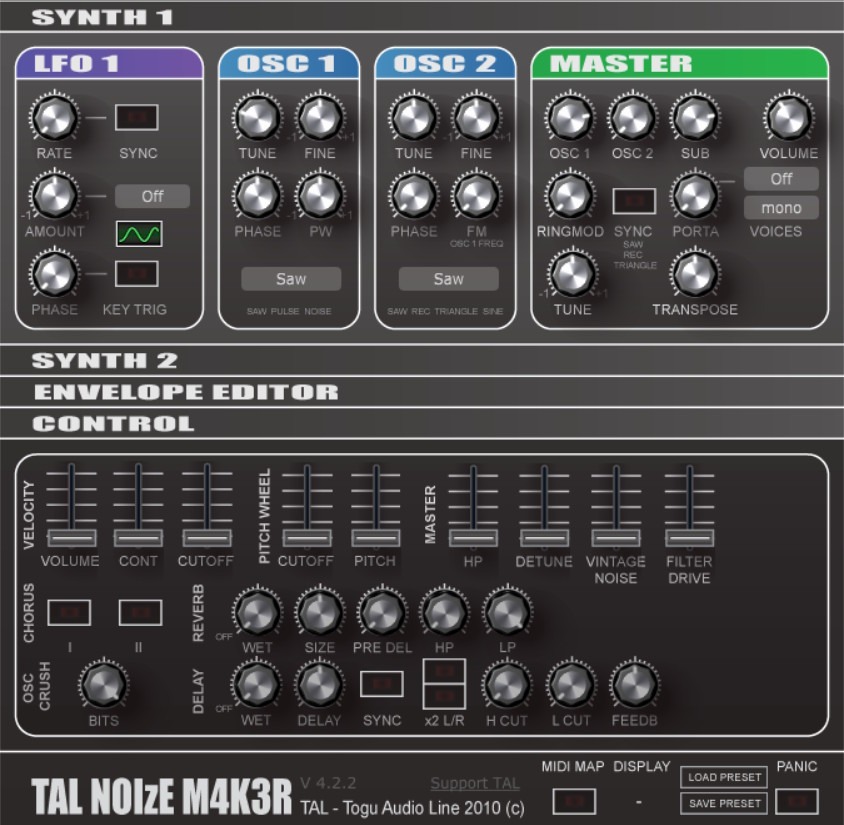 The GUI, which is divided into four sections, has its advantages and disadvantages because on the one hand the parameters, faders, and buttons are nicely sized and clearly arranged, on the other hand, you can only have two modules open at the same time. In some cases, the workflow suffers from this. All in all, a really good PlugIn, which everyone should have on his computer!
Helm has everything a polyphonic, subtractive VA-Synth needs: 2 Oscillators, a Sub-OSC and a Noise-OSC – all adjustable via a mixer. 3 envelopes, which are adjusted via sliders but displayed as classic curves, 3 LFOs, step sequencer, and arpeggiator as well as stutter and formant effect plus the classics delay, reverb, and distortion. The included presets show a huge range that makes you want to get started with sound design yourself.
Dexed is a free FM synthesizer modeled after the Yamaha DX7. It comes in three different engine types (OPL (8-bit), Mark I (closest to the real DX7) & Modern) and 33 sound banks/"cartridges" in .syx format. You can even send programs to DX7 hardware if you want to. A great compilation of cartridges is Dexed_cart_1.0.zip by BlackWinny from KVRAudio.
Tunefish4 is a virtual-analog freeware synth with many effects and a very clean GUI. With the four filters (lowpass, highpass, bandpass, and notch), which are separate from each other and can be switched on in all combinations, you can do quite a lot on your own. Two LFOs, two envelopes as well as lots of stackable effects, including a formant section, and a modulation matrix make this polyphonic freeware (up to 16 voices) a versatile synth. The sonic bandwidth is nicely demonstrated by the included presets. From a sawtooth sound, wide strings and fat basses to electronic drums, everything is available here. And there is still plenty of room for your own sounds.
Symptohm PE is the free Performer Edition of the Symptohm Melohman by Ohm Force. You get all of the 1200+ factory presets and some customizing options. You can also use your own samples as a source for the waveform. It is available in two GUI skins. I would suggest you get the classic one (right) because in the funky one (left) you can hardly read the font.
One of the best free virtual instruments is for sure the Synth1 by Ichiro Toda. It is modeled after the Clavia Nord Lead 2 Red Synth. There is a huge community around this plug-in and you can get a lot of different patches online. The website where you can get it is in Japanese, so you probably want to again translate it with the help of your browser.
Sampler
The TX16Wx is a replica of the Yamaha TX16W sampler from 1988. Even the old factory disks and sounds, which can be found online, can be loaded via the file browser. But you can also use your own sound files in all kinds of formats. There are multi-outputs and 128-voice polyphony. Of course, it has a lot of more functions to easily start sampling. And if you want to extend it, you can buy a license for the Pro version.
Sitala by decomposer is an amazing small sampler plug-in. It convinced me with its simplicity and convenience. By default, an 808 kit is loaded and you can directly start programming the drums. Not only this fact but also the simpler interface and straight forward knobs make it a lot easier to use than the TX16Wx. You, of course, can use your own samples as well.

Acoustic Instruments
The MT Power Drumkit 2 is a really neat acoustic drumset. In the free version of the plug-in, you have to skip an overlay before you can fully use it. Then it offers you some possibilities for internal mixing and editing with a compressor. It also features an extremely extensive collection of MIDI grooves, which can be used to create different rhythms and accents.
SSD5 Free comes with only one kit called "Deluxe 2 Free Edition". For me, the Steven Slate Drums sound the best of all the free drum plug-ins. In the "Edit Instrument" section you can adjust a lot for each of the drums and influence how the drum behaves when triggered. Volume, pitch (all six drums and six cymbals) and phase rotation can be adjusted for each sample. Additionally, you can use your own drum samples. Still, the installation process is a little bit tedious but totally worth it.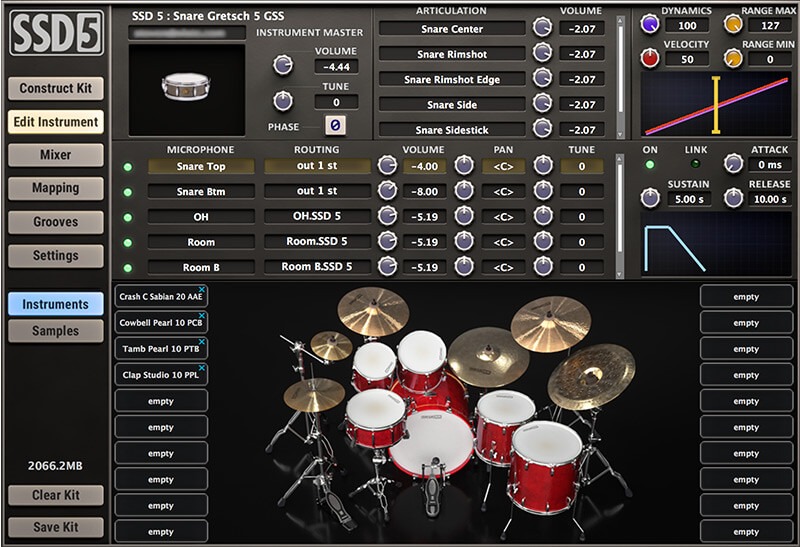 DrumMic'a is a library for Native Instrument's free Kontakt Player (you need to install it via Native Access). It consists of almost 13,000 individual samples in 24-bit quality and occupies a good 12 GB on the hard disk. The samples are composed of recordings of various Sennheiser and Neumann microphones. Ten Sennheiser microphones were used (MD 421-II, MD 441, e 901, e 902, e 904, e 906, e 914, MK 4, MKH 800, MKH 8040) and five representatives of Neumann (KM 184, TLM 170R, D-01, USM 69 i, U 87ai). The drums were taken off at nine positions (kick drum inside and outside, snare down and up, Hi-Hat, Tom 1, Tom 2, Tom 3 and stereo overheads). For each of these positions, you can choose from several microphones.
DrumMic'a contains a library of over 1,300 MIDI grooves of different styles. The spectrum ranges from pop and rock, funk, hip hop, and disco to jazz, Latin, blues and country. For almost every style there are several grooves in different intensities and instrumentations (e.g. Hi-Hat or Ride) as well as some intros, endings and fills. The files can be dragged and dropped into the DAW to create a song.
Ample Sound makes high-quality and professional acoustic VSTis. You can get three of them for free.
If you are looking for a realistic guitar instrument the Ample Sound Guitar M Lite II is probably the best free option. You can choose from fingerpicking, regular picking, and strumming. If the latter is for you, there is a custom Strummer module for programming precision strumming sequences. You can even import tabs and use 8 integrated effects.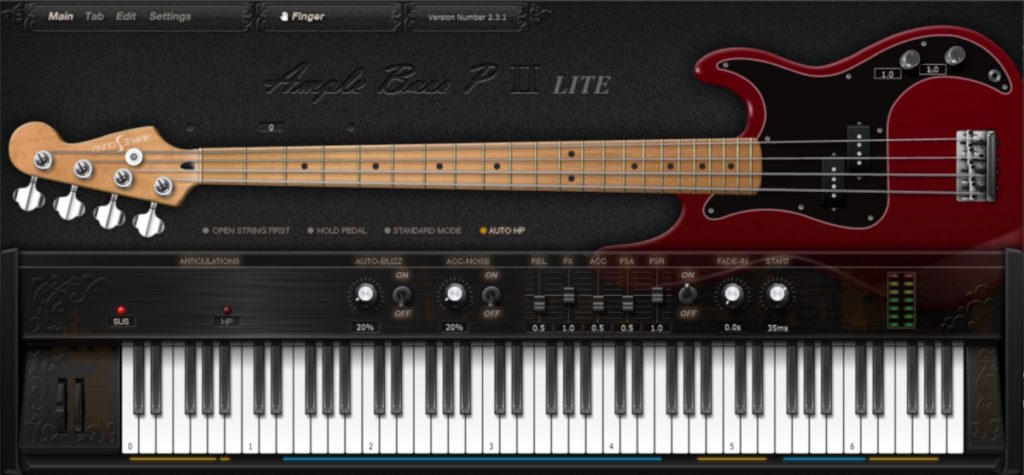 Ample Bass P Lite gives you the possibility to use a Fender Precision Bass within your home studio without paying for it. It is based on 443 samples and with sustain, accent, and hammer on & pull, three articulations are offered, two of which can be used simultaneously. The tone range reaches from D1 to F4.
The third free plugin is Cloudrum. It offers a great sounding steel tongue drum with a clear interface. Whether you use the included presets or custom sounds, the plug-in sounds very natural, especially with its special damping method.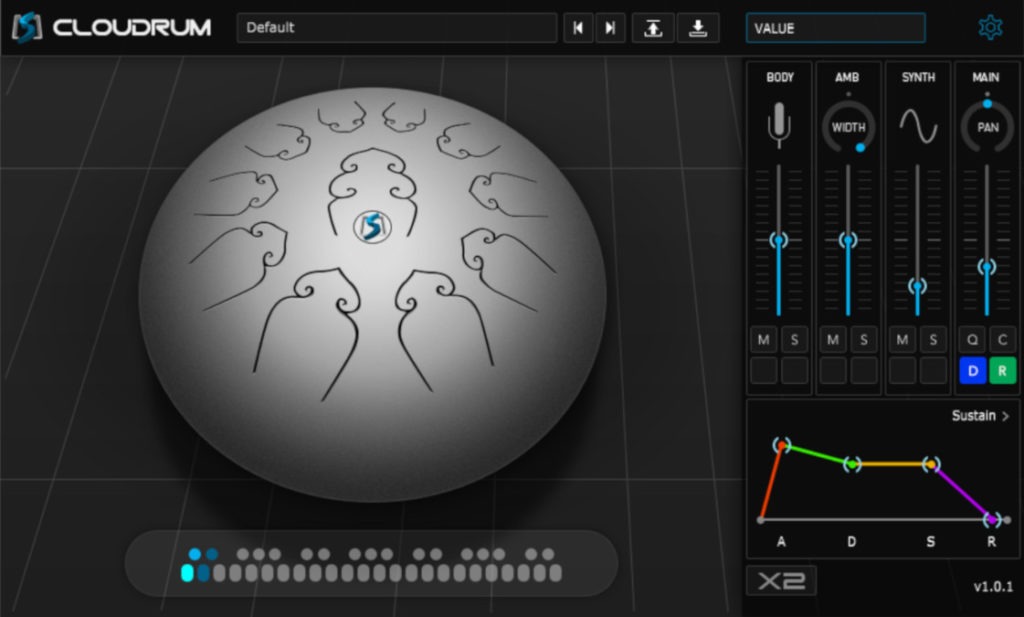 Instrument Bundles
Versillian Chamber Orchestra Community Edition is a sound library with 24 sampled instruments. It comes in all different kinds of formats (VST/AU, NKI, sfz, XRNI, Sample Tank & the raw WAV files) and while the versions slightly differ from one another they are all based on the same samples. Because it is only a chamber orchestra, I would not compare it to big orchestral sound libraries for cinematic music (there are also great free Kontakt libraries that offer more controls of articulations). It still sounds really amazing and is a must-have if you don't want to spend any money and still produce orchestral music. You can of course also use it in other productions and get creative with additional effects to create unique sounds.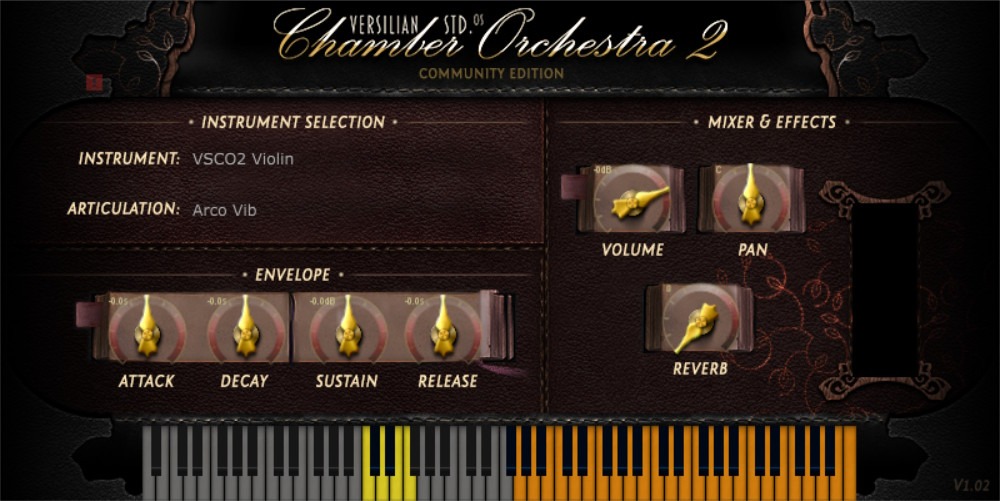 Like the VSCO, Labs by Spitfire Audio provides you with multiple sample-based instruments. From strings to piano sounds you can find a lot here. They are also adding new free sound libraries/instruments very frequently.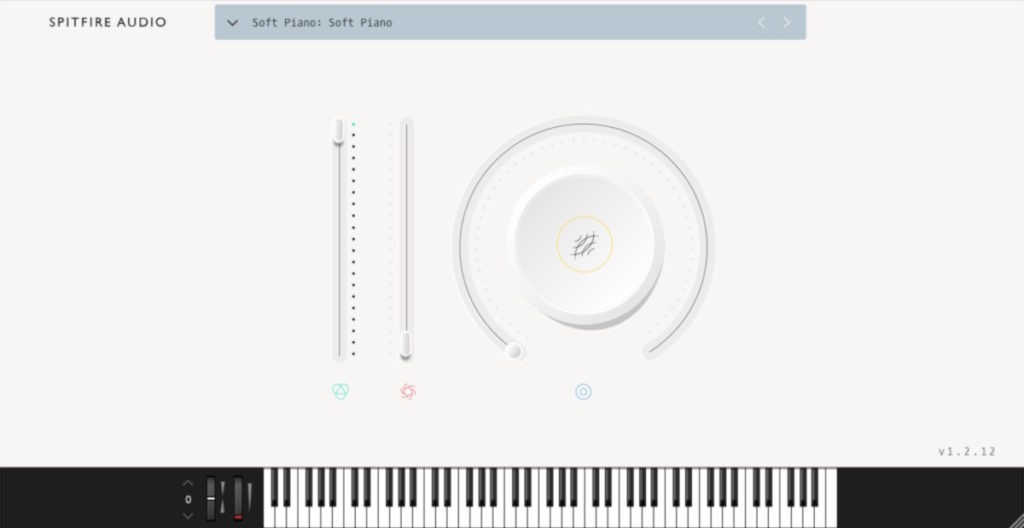 Native Instruments offers you a huge variety of sounds (6 synthesizers & 8 sampled instruments). There is really something for everyone, no matter what style of music you produce. Some of the sounds are a bit older, but that doesn't affect their quality. In addition, Komplete Start also features current Kontakt libraries, like Analog Dreams, Hybrid Keys and Ethereal Earth. If you don't own any Native Instruments products yet, this offers a good entry into the world of Native Instruments.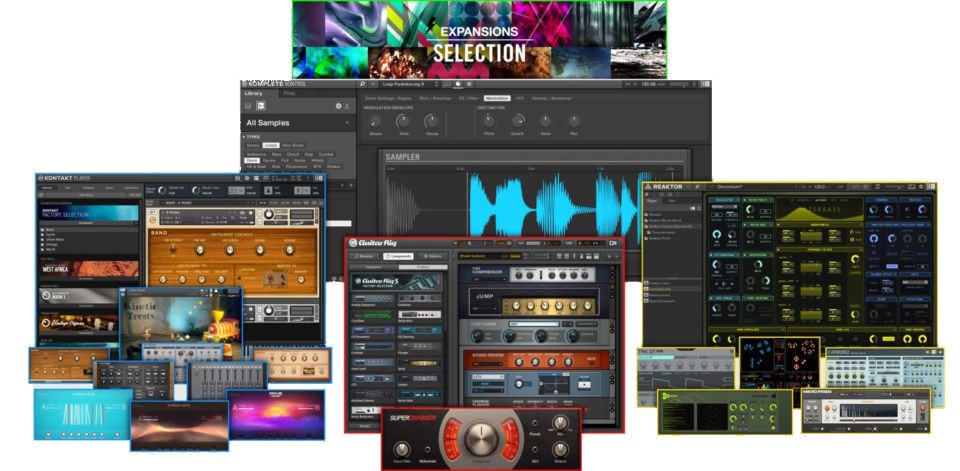 Six synthesizers:
TRK-01 Bass (bass synthesizer)
Mikro Prism (poly-synth)
Lazerbass (mono synth)
Carbon 2 (poly-synth)
Space Drone (drone synthesizer)
Newscool (sequencer synth with glitch effects)
Eight sample instruments:
Play Series Selection
Kinetic Treats
Expansions Selection
World
Band
Synth
Vintage
Urban Beats
To get all this stuff you need to create an account at Native Instruments and install Native Access.
I hope you enjoy the best free virtual instruments on this list. If you think it is missing one, let me know in the comments below!