The Best Free Digital Audio Workstations (DAWs) for Music Production
Making music does not have to be expensive. It does not matter if you are a beginner or experienced musician who wants to produce himself. While programs like Ableton, Cubase, FL Studio, etc. are really expensive, you can get similar software for free. In this blog post, you can find the best free DAWs for music production. It also does not matter which operating system you are on. I featured different Digital Audio Workstations and marked my favorites for Windows (), Mac (), Linux (), and your browser/smartphone (, , ) with the respective icons behind the DAW name.
The best free DAWs for music production
While some "free" Digital Audio Workstations come with track limitations and no third-party plugin support, all of the following DAWs do not limit you in that kind of way.
Cakewalk by BandLab was formerly known as SONAR ($600) by Cakewalk. After the active development of Cakewalk products was ceased BandLab acquired certain assets of the company and made the DAW available for free. It comes with 5 great sounding instruments and has more than only the basic stock effects. Lately, I've been using Cakewalk more often and I fell in love with the ProChannel, which includes different effects that emulate famous analog gear.
The user interface is completely customizable and although it might look a little bit intimidating to a beginner, because of all these different buttons and settings, I highly recommend you to check out this outstanding Digital Audio Workstation! It is frequently updated and it already supports VST3 and ARA.
| | |
| --- | --- |
| Plugin Formats: VST2, VST3 | OS: |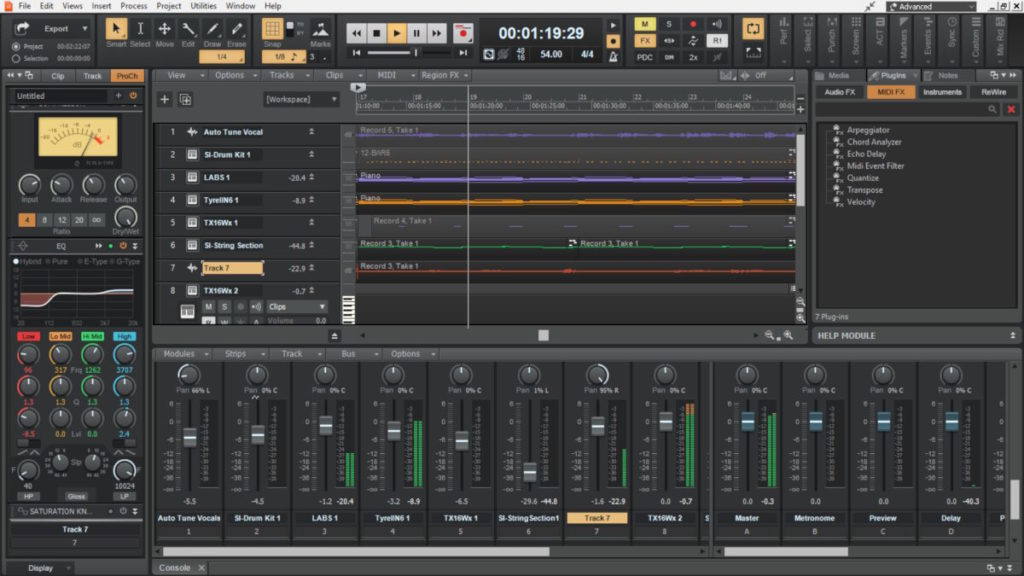 For Mac users, I would suggest GarageBand. It is like a light version of Apple's Logic Pro X. It comes with a variety of instruments, loops, and effects. You can even learn how to play the piano or the guitar with the help of integrated music lessons. As typical for Apple, the software is really intuitive and it makes fun to play around with the different virtual drummers, etc. If you still need more features, you can upgrade to Logic Pro X for $200.
Waveform FREE is a the free version of Tracktion's current flagship Waveform 10. Additionally to the basics stock effects you get the biotek synthesizer. Furthermore, you can get creative with the modular plug-in rack. In addition, Waveform FREE features a single-screen interface, which lets you access all its features in only one window. This can be an advantage but maybe also it is a little bit inconvenient. However, for only $69 you can upgrade to Waveform 10, which includes a Melodyne essential license and Antares AutoTune. This is quite a good deal in my opinion.
| | |
| --- | --- |
| Plug-in formats: VST2, AU, Linux VST | OS: |
Although the former name Linux MultiMedia Studio suggests that LMMS is made for Linux only, it is available for Windows and Mac as well. It is structured like FL Studio and comes with a bunch of funny synthesizers. Unfortunately, you cannot record audio with LMMS, which for me is a basic function of a DAW. Especially if you want to use the FL Studio system to build beats only with pre-recorded samples and loops LMMS is a great option for you. If you need some samples to work with check out my video about the best sources for free sample packs.
| | |
| --- | --- |
| Plug-in formats: VST2, LADSP, SoundFont2 | OS: |
Ardour is an open-source project initiated by Paul Davis. Besides 10 stock plug-ins, it comes with a neat video timeline, which is especially useful if you want to produce cinematic music.It is primarily focused on Linux but you can also use it on Windows and Mac as well. If you are a Windows or Mac user you need to donate at least $1 to get the installer (if you cannot compile it yourself). However, as a Linux user Ardour is completely free.
| | |
| --- | --- |
| Plug-in formats: VST2, AU, LV2, Linux VST | OS: |
Soundbridge was formerly known as Lumit Audio and is also a great free Digital Audio Workstation. You get 9 basic effects, the RitMix drum machine, and the possibility to cooperate with other creators via Skytracks.io. With VSTs, you can extend your repertoire of effects and instruments as you like.
| | |
| --- | --- |
| Plug-in formats: VST2 | OS: |
Qtractor is a really basic DAW, which provides you with all the effects and functions you would normally need. There is no stock instrument but with these third-party plug-ins, you are good to go.
| | |
| --- | --- |
| Plug-in formats: VST2, LADSP, DSSI, LV2 | OS: |
Rosegarden is another open-source DAW for Linux, that includes a notation function, which allows you to write sheet music within the software. I cannot write music but if you can and use Linux this DAW might be an option for you.
| | |
| --- | --- |
| Plug-in formats: VST2, LADSP, DSSI | OS: |
Best Free Online & Mobile DAWs for music production
Nowadays making music can be so easy. Even if you only have a smartphone you can produce music. Alternatively, you can also produce within your browser on your desktop PC. The best online/mobile DAWs can be found below.
BandLab is my favorite online DAW. With over 200 different instruments and multiple effects like AutoPitch, you get a really versatile toolbox. It is structured like a traditional DAW and reminded me of GarageBand.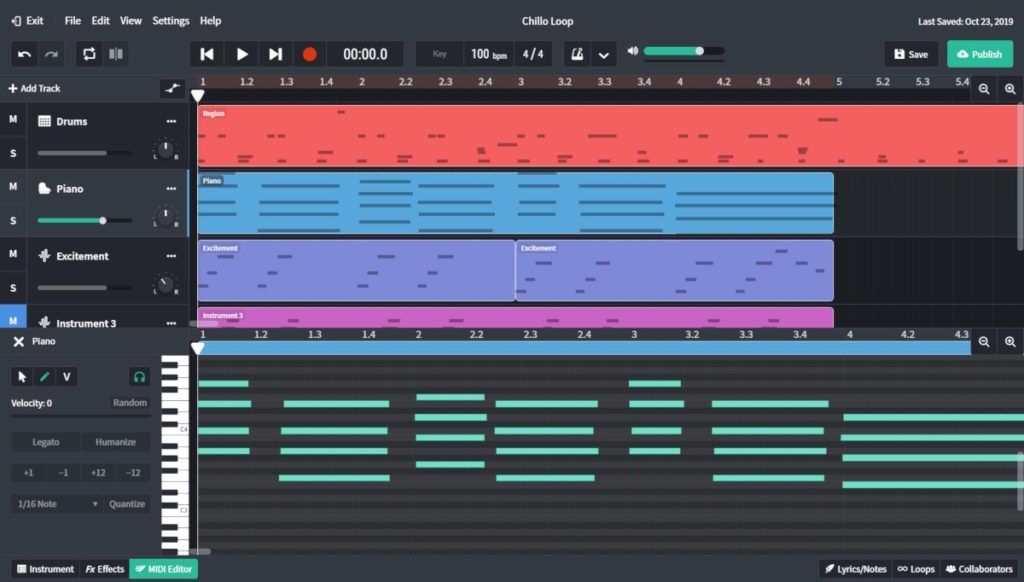 You can collaborate and share your music directly with the BandLab community, but what makes BandLab stand out for me in contrast to the other online DAWs is the high-quality export. You can save your tracks in 24-bit lossless WAV format on your hard drive. Additionally, BandLab has got a free mastering algorithm, that you could use to get your music to a competitive loudness level.
Besides their Mac version of GarageBand Apple also offers you the GarageBand app for your iPhone and iPad. Although it has fewer functions, entire albums were produced with this app. It might be a little less convenient to produce on your smartphone but I think it also depends on your overall workflow.
Audiotool is a browser application for either Firefox and Chrome. It comes with a bunch of fancy instruments inspired by analog hardware. Furthermore, the modular structure of Audiotool is based on analog hardware. This means you can drag and drop the different devices into your working area and you have to connect them as you would do in real life.
You can draw in MIDI or record it via a MIDI device. But unfortunately, you cannot record audio directly in your projects. However, you can record a sample on another page and import it into your session.
One big advantage of online DAWs is that you can collaborate in real-time. This is also possible in Audiotool. If you invite another Audiotool user to your project you can communicate via an audio/video chat. Another really cool feature of Audiotool is, that you can use presets and samples from other users if they make them available to you under a Creative Commons license.
Unfortunately, you can only publish your music creations to Audiotool itself or SoundCloud. I don't like this because I would like to export my beats to my harddrive in high quality. Hopefully, an export function is implemented in the future.
Soundtrap looks a little bit like BandLab and it also works pretty much the same way. You can create music with over 2000 loops and 200 virtual instruments. The only downside is that if you want to export your tracks in WAV instead of mp3 you have to be subscribed to one of their paid subscription plans (Music Maker Supreme $14.99/mo). They also have special plans for podcast creators where they offer to publish your podcasts directly to Spotify. Personally I think there are cheaper ways of recording & publishing your podcast.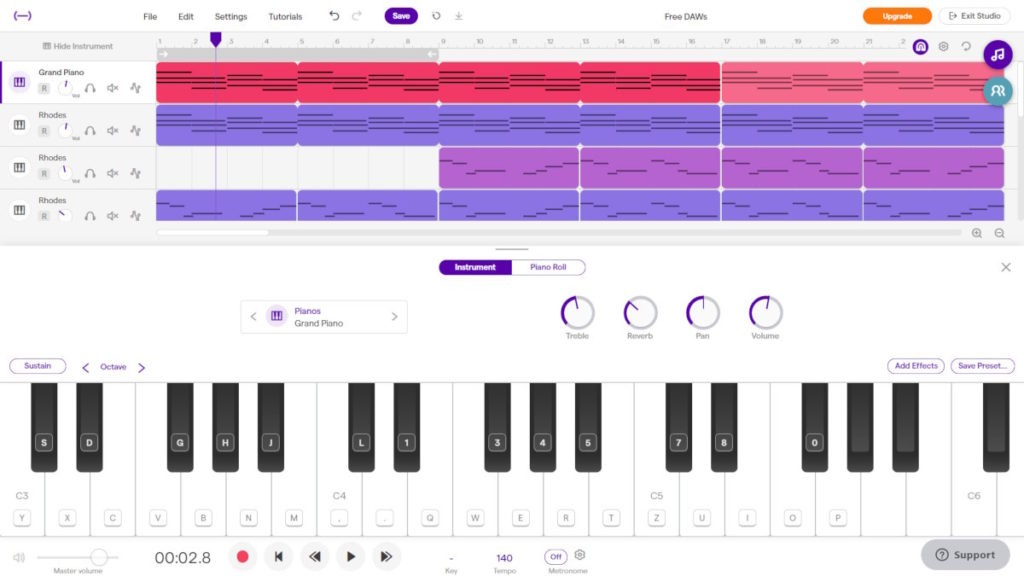 Honorable Mentions of free audio software
Although the following programs did not make it on the list of the best free DAWs for music production, they are worth noting. Some of them are not listed above because they are really limited, others may cost a small amount of money or only come with a purchase of hardware.
Whenever it comes to free audio software, it's likely to stumble across Audacity. And to be honest, it is quite a powerful program, which has got a great noise reduction function, only takes up a small amount of storage and is really CPU efficient. But it is not meant to be used for music production. You can edit audio and it allows you to use third-party plugins, nevertheless, it does not support MIDI Instruments and also does not have a time signature feature. I would recommend it if you want to quickly process a sample or record a podcast.
| | |
| --- | --- |
| Plug-in formats: VST2, AU, LADSP, LV2 | OS: |
Studio One 4 Prime offers you 9 stock plug-ins and 1 instrument. These are also the only ones you can use since third-party plug-ins are not supported. However, there is no track or project limit and once you get to a point when you miss certain features you can upgrade to Studio One 4 Artist for around $100 or the professional version for around $400. You can also rent-to-own the professional version via Splice for $16.99/mo over a period of 2 years.
REAPER can easily compete with the big names in the business in terms of functions. It is often labeled as free, although it is not, because it is like the WinRar of DAWs. While REAPER's demo version never really stops, you should consider buying it if you like it. It is only $60 for a personal license and you support the development of this outstanding software.
| | |
| --- | --- |
| Plug-in formats: VST2, VST3, AU, DX, JS | OS: |
Although you can create as many tracks as you want and use your third-party plugins, with OhmStudio (free) you are limited to 10 projects. These again are stored online which means that you have to have an internet connection. Therefore you get a real-time collaboration feature like the one in the browser DAWs.
| | |
| --- | --- |
| Plug-in formats: VST2 | OS: |
ProTools once was the most used DAW and probably all major studios still own a copy of it. However, ProTools First is really limited. You can only save up to 3 projects and you need an internet connection as they are all saved in Avid's cloud. It comes with 23 stock plugins and 3GB of sounds. Furthermore, you cannot use third-party plugins and the upgrade option is a subscription plan, which I am not a fan of. It probably won't satisfy your needs. but at least you get some insight into how ProTools works,
Ableton is one of my favorite DAWs because it kind of inspires me to be creative. The Lite version of it is a little bit limited (8 Audio & MIDI tracks / 2 send & return tracks) and only comes with a hardware device purchase. If you want to start making music it is likely you will need an audio interface or a MIDI controller. Some of them come with the Lite version of Ableton like for example the Focusrite Scarlett Series or M-Audio MIDI Keyboards. As many music producers around the globe use Ableton, there are already a bunch of helpful tutorials on YouTube
| | |
| --- | --- |
| Plug-in formats: VST2, VST3, AU | OS: |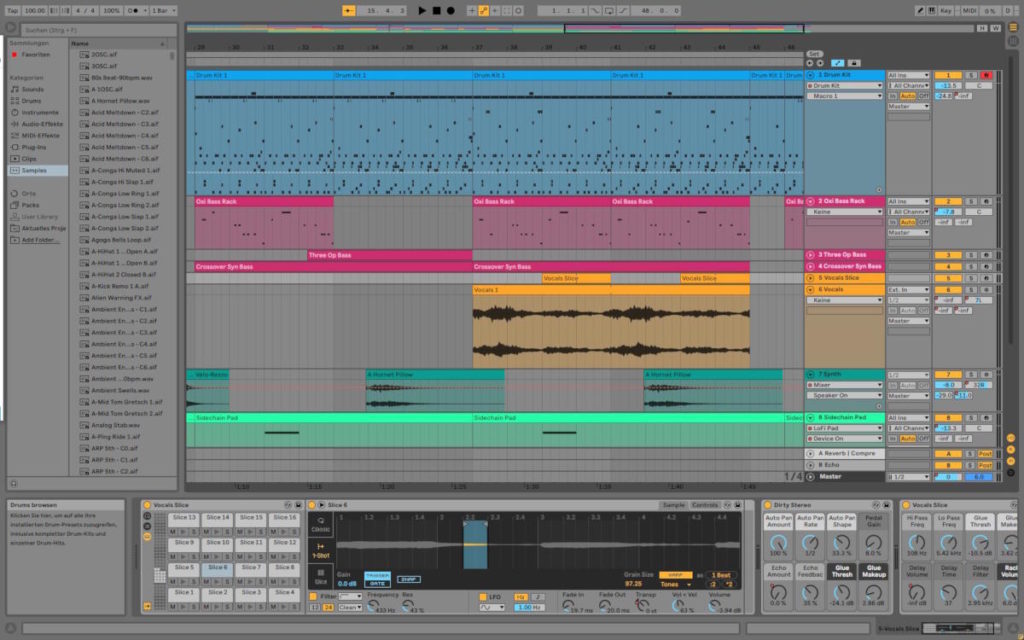 Cubase AI/LE
Cubase AI is included with a purchase of Steinberg or Yamaha products. So if you need an audio interface to start with the UR22 would be my recommendation. I bought the UR44 (bigger version with more inputs) myself and it does a really good job. I personally use the Pro version of Cubase and it is a really powerful DAW.
The AI version, however, supports up to 48 MIDI tracks, 32 audio tracks, and 16 physical inputs with recording quality up to 24-bit/192 kHz. The free software also comes with the HALion Sonic SE 2 virtual instrument featuring 180 presets. Another 28 basic plugins, like EQ, compression, and delay, ensure you'll have everything you need out the gate.
| | |
| --- | --- |
| Plug-in formats: VST2, VST3 | OS: |
Just like Ableton Live Lite Cubase LE comes with certain hardware devices. It has fewer features than the AI version but it is still a great software to start making music with. It only supports half the amount of MIDI tracks, audio tracks, and physical inputs. But you can record audio with 24-bit/192 kHz as well. Furthermore, you only get 23 of the Cubase stock plugins.
I hope this list of Digital Audio Workstations was helpful to you. For more content check out my YouTube Channel and my free online tools. Feel free to leave a comment here or under one of my videos.